Allotment News
2017-2018
Allotment Reps
Robins Class - Janet (Head Gardener)
Owls Reps - TBA
Kingfishers Rep - Alice & Kirstin
Please click on picture below to view
Autumn Allotment Day 2017 video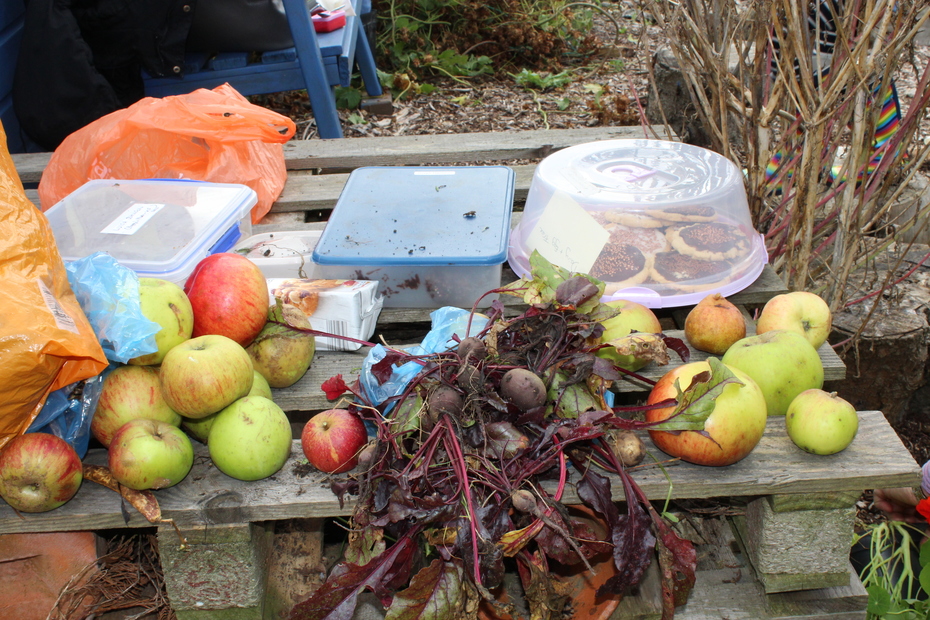 Earth Day Celebration at the Allotment
April 2017
Earth Day aims to encourage people across the world
to be more environmentally friendly.
Click on picture below to view video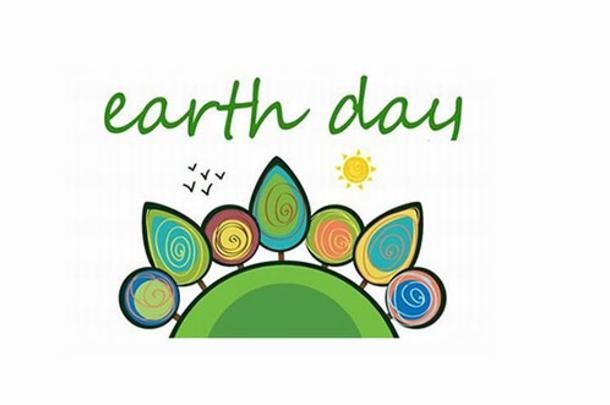 Plants we noticed around the allotment.
October 2016
Allotment Ground Force Day
It was brilliant to see such a lot of people on Sunday, a great chance to show off the allotment and outdoor classroom! As well as harvesting potatoes, curly kale, Swiss chard, courgettes and beetroot, which were then taken home to be enjoyed! We got some jobs done: painting benches St Andrew's blue; repairing raised beds; taking out the old plants and weeds; adding compost. This meant that the class trips to the allotment the next week were able to plant spinach, carrots, peas, spring onions and onions for harvesting next spring.
Talking about Harvest you may see some allotment hops, lavender and a pumpkin around the school in the run up to the Harvest Assembly.
For the first time we had a treasure hunt around the allotments, which the children enjoyed. Another first was having more people than jobs, which meant it was a good social occasion, getting to know new families and old.
July 2016
A super morning was had by Swallow Class at our school allotment and outdoor classroom. We transformed the classroom area with a large bug hotel, a beautiful musical sculpture and a reflective pear prayer tree. The children squealed with delight when digging for bugs to transport to the new hotel. A fun morning had by all.
September 2015 - Ground Force Allotment Day
"Pumpkins and wild flowers, the allotment has been busy over the summer"
Track Title: Down to the Allotment
Spring Allotment Ground Force Day
2.5.2015
"There was a small but happy gang of volunteers at the latest allotment day. We did dig and replanted the herb garden and also some of the wild flower meadow. The children in particular enjoyed helping the adults paint the shed St. Andrew's blue, watering plants and people, finding bugs and watching the nearby chickens.The rest of the plots are now ready for our pumpkins and some other plants which will go in soon.
Thank you to everyone who came to help!!
Track Title: Harvest Samba
Click on the arrow (left) to listen to the song.
Autumn 2013
Please click on picture below to view a video of:
St. Andrew's Allotment Ground Force Day Video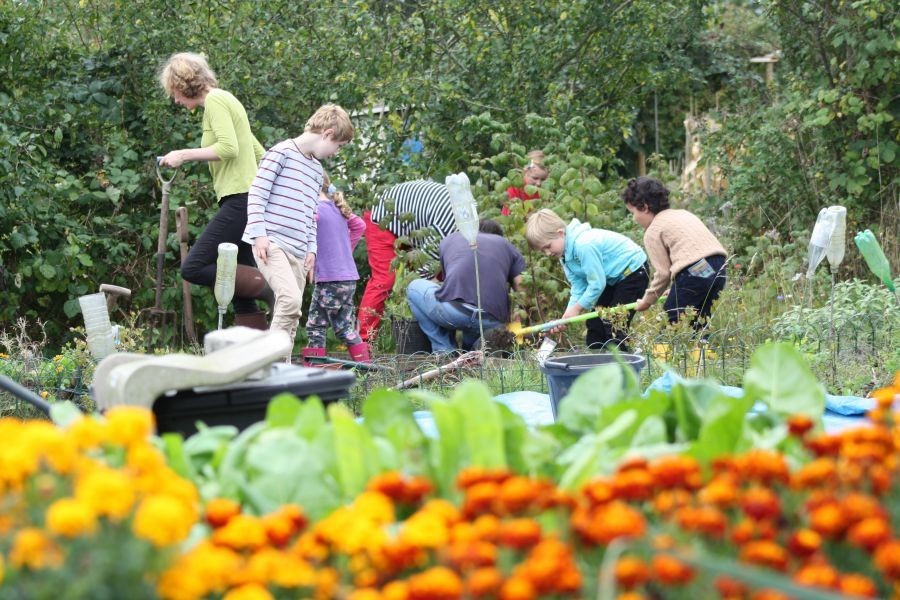 SPRING 2013
After a long and cold winter we have now begun to see the first signs of spring, and St. Andrew's children are busy getting the allotment ready for some new plants.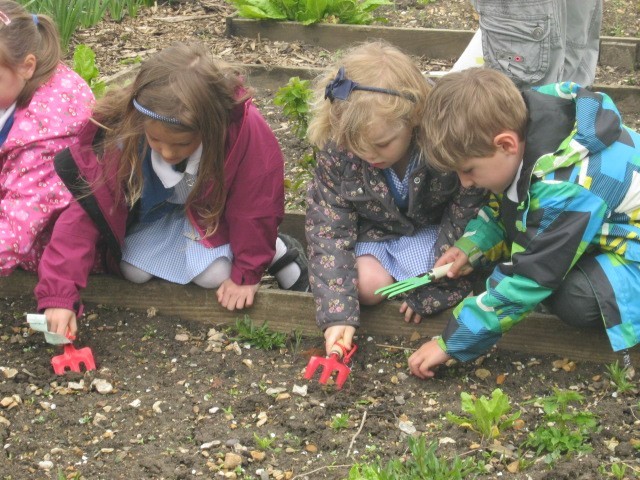 What's New this Spring?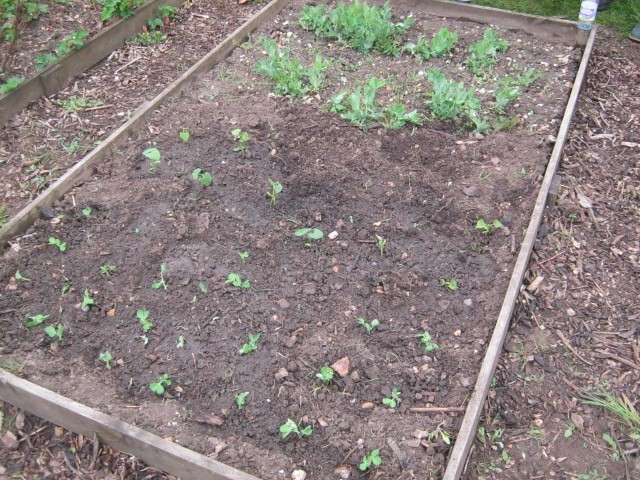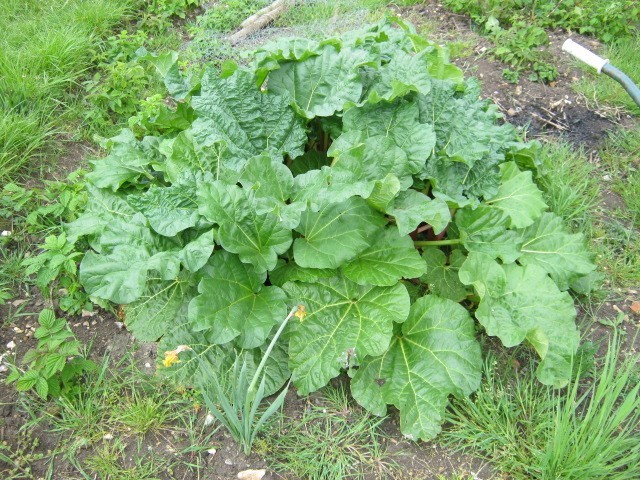 Peas and Beans planted by Swallow Class and rhubarb growing well.
Garlic planted on our winter walk is now doing well and about 30cm high.

Winter peas, also planted on the winter walk are growing well.

Planted this month were dwarf beans, more peas, potatoes.

Lavender and scented herbs have also bean planted to encourage the bees. This will show the children the importance of bees to growing food for us all. In your own gardens you could also help out by planting lavenders, borage, nasturtiums and phacelia. Check out the Keep Britain Buzzing

campaign on the following website

:

www.soilassociation.org/supportus/keepbritainbuzzing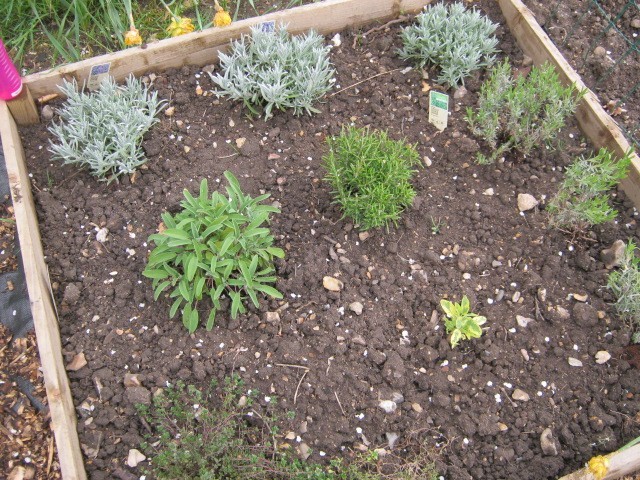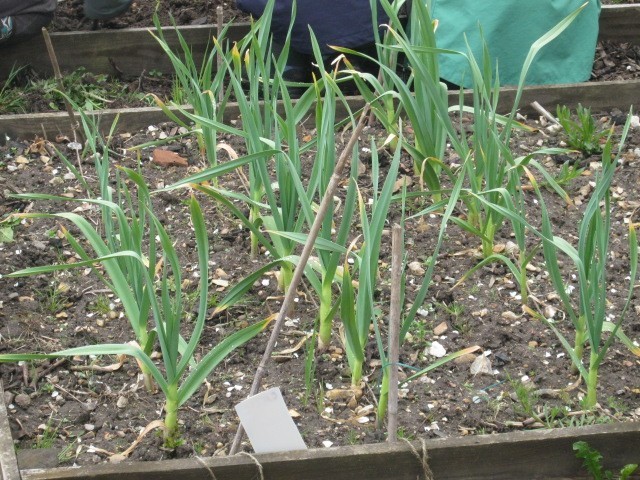 Lavender, scented herbs and garlic.
Autumn 2012
Get Grown Ups Gardening Day

We had our annual Ground Force morning up at our school allotment off West Street in central Farnham.
We did some weeding, digging and got the beds ready for the winter.
Thank you to everyone who helped. Parents have built three new raised beds which will be for wild flowers and herbs.
Some of our dads fixed our new water butt donated to our school. This will help us to be more sustainable.
Leo and Adam helped to collect leaves to make mulch for the beds and Tilly, Benjamin, Freddie, and many of our past pupils helped to dig up 27 potatoes planted at our last Ground Force day.
The RHS, as part of their Get Grown Ups Gardening scheme donated many seeds to sow and grow throughout the winter. We have now planted winter peas, which we will look forward to seeing grow in the spring.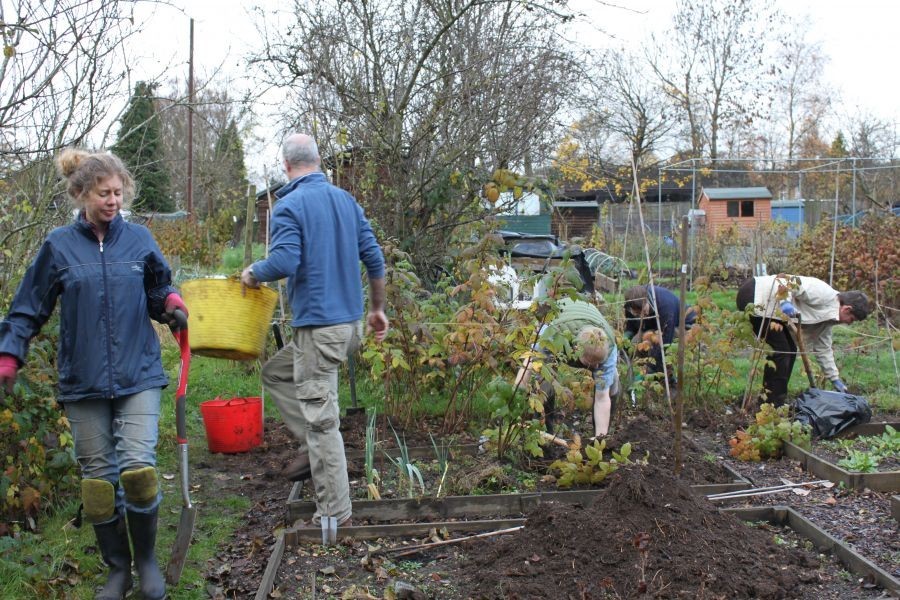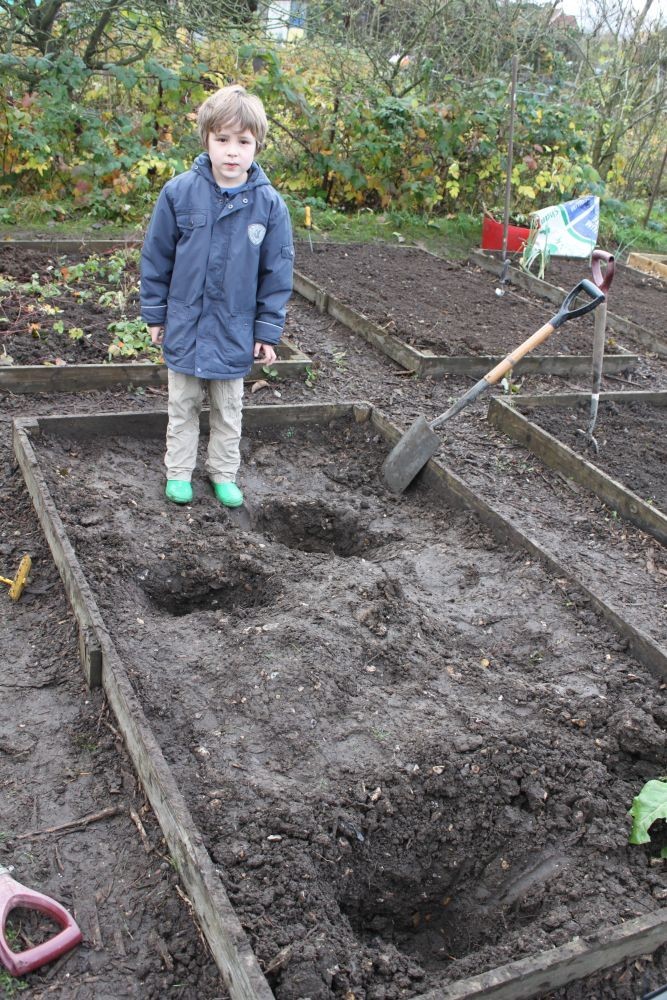 Benjamin shows off the hard work from the children on the children's bed!
Our water butt is now fitted to the guttering to allow us to use rain water for watering our plants.
Compost which has been rotting for a year is now ready to dig into the seed beds.
Click on the arrow (above) to watch
the Allotment Ground Force morning video Autumn 2012.